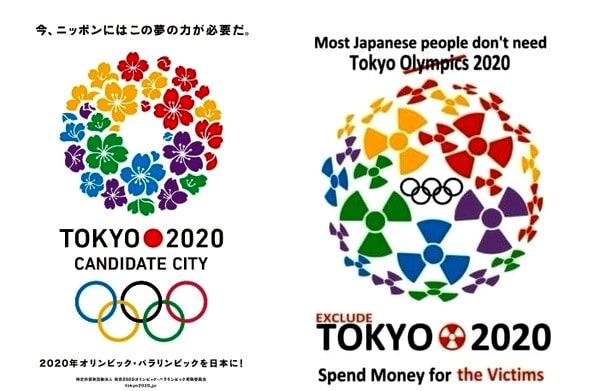 *Prime Minister Abe made a speech for the final presentation at IOC General meeting on 7th of September, 2013. He said,
"You might be concerned on the situation in Fukushima. I would like to assure you that the Fukushima Daiichi Power plant is under the control. There has been no bad effect in Tokyo area up until now, also there is never going to be any bad effect in the future, either."
フクシマについて、お案じの向きには、私から保証をいたします。状況は、統御されています。東京には、いかなる悪影響にしろ、これまで及ぼしたことはなく、今後とも、及ぼすことはありません。
(Editor's note: the world knows PM Abe told huge lies. Even Tepco denied PM Abe's comment on leaking of the radioactive water. They admitted 50% of radioactive water goes outside the barrier.)
*Tokyo Governor Inose commentted "Tokyo is safe because 250km away from Fukushima".
猪瀬知事は「福島は東京から
250Km
離れている、安全だ」と言った。
(Editor's comment: It sounds like Mr. Inose has admitted that Fukushima is not safe. I fear all the money is going to go to Tokyo to prepare for Tokyo Olympic, forgetting about Fukushima. Then I heard this below news that makes me feel even more worrying. It sounds like Fukushima local governors are going to use Tokyo Olympic as a propaganda to cover-up the Fukushima nuclear crisis.
五輪でJヴィレッジ活用を 楢葉町長「復興の後押しに」
Naraha-machi Governor, Mr. Matsumoto wanting J village to be used as a practice place for Tokyo Olympic
Naraha-machi Governor, Mr. Matsumoto: "I think J village is as a symbol of the recovery of Futaba-machi. Therefore it would be good to be used for Tokyo Olympic".
A head of the Fukushima recovery committee and a member of LDP, Mr. Iwaki: "We are going to discuss on various issues on Tokyo Olympic at the LDP meeting. Tokyo is going to host 2020 Olympic, however it might be possible for J village to be use as a practice venue."
(Editor's comment: J Village is a sport facilities built in 1977 between Nareha-machi and Hirono-machi, about 20km away from the crippled plant. It has been used as a clean-up operational hub since 3.11.
楢葉町の松本幸英町長は9日、自民党東日本大震災復興加速化本部「福島再興に関する委員会」に、東京電力福島第一原発事故の収束作業の拠点となっているJヴィレッジ(楢葉・広野町)を東京五輪で活用するよう求めた
--------------------------------------------------------------------------------------
Jヴィレッジ「東京五輪キャンプ地に」=サッカー協会、復興に意欲 The Japan Football Association is keen to use J Village as a camping site for Tokyo Olympic!