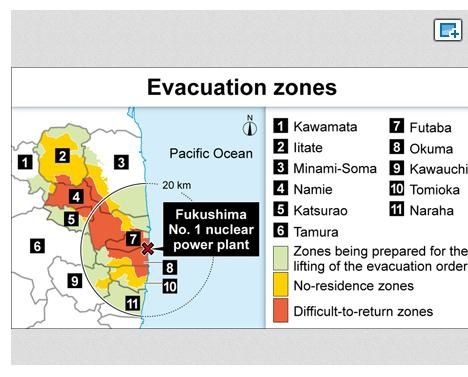 It will also re-examine safety standards of radiation doses used for decontamination work and health-care measures.
The evacuees still have a common wish--the situation will return to the way it was before the nuclear accident. But over the last two years and eight months, they have realized that this wish will not come true.
Naturally, many have decided to make a fresh start in other places.
We have no objection to the government broadening the options for support. But in deciding its policies, the government must ensure that it does not create new rifts among residents.
Regardless of whether the evacuees decide to return home or not, the only thing the government can do is to carefully deal with each case based on the idea of helping individuals rebuild their lives.
In Namie, Fukushima Prefecture, where all 20,000 residents were required to evacuate, communities were split into three categories.
The most heavily contaminated areas are designated as "difficult-to-return zones," and there are currently no prospects for residents to return there. "No-residence zones" are places where several more years are needed to reduce radiation levels.
The remaining areas, where residents are expected to be able to return in a relatively short period, are designated as "zones being prepared for the lifting of the evacuation order."
The difficult-to-return zones account for 80 percent of the town's area. In number, it equals about half that of the populations in each of the other two zones.
"
In the towns of Okuma and Futaba, where 90 percent of the population comes from difficult-to-return zones, and Naraha, which has no such zones, it is easier for the municipal governments to come up with requests and reconstruction plans," a Namie town official said. "But in Namie, the gaps in the circumstances among affected residents are too wide."
One such gap exists in financial support for evacuees to acquire new homes for relocation.
The ruling parties came up with a proposal to provide additional support directed at residents of difficult-to-return zones.
But outside the designated areas, many homes remain difficult to return to due to leaking roofs and rat infestations. If the provision of support is narrowed, these households would be left out.
Funding remains a concern. Homes washed away by the March 11, 2011, tsunami would be outside the scope of compensation if the funding is provided through additional compensation measures by Tokyo Electric Power Co., operator of the crippled nuclear power plant.
That could lead to a wider gap between those who lost their homes and those whose homes remain standing.
The circumstances of each community must be taken into account to maintain fairness.
It would be meaningless for "the central government to come to the fore" if it imposes too many restrictions on how and when to spend the money provided to local governments of stricken areas. Measures, such as setting up funds and granting lump-sum subsidies, are needed to make it easier for those local governments to exercise discretion in spending their budgets to meet the actual circumstances.
HEALTH-CARE SUPPORT AS A SET
It is also important to prevent changes in safety standards of radiation exposure from leading to the abandonment of stricken areas.
A panel of the Nuclear Regulation Authority put together a set of proposals comprising three major points: Standards for decontamination can be relaxed, maintaining the long-term goal of reducing additional radiation exposure in affected areas to 1 millisievert a year; evacuees should be allowed to return home if annual radiation doses are below 20 millisieverts; and levels should be calculated based on readings on individual dosimeters instead of air dose measurements.
Radiation levels of decontaminated areas have declined since the time immediately after the accident. However, it has been difficult to lower annual radiation doses to 1 millisievert or less in many areas.
Although Date, Fukushima Prefecture, is located outside the evacuation zone, it was one of the first municipalities to tackle decontamination work.
Takahiro Hanzawa, the city official in charge of decontamination, said, "We should stop decontamination work when we can not expect the radiation levels to decline any more. It leads to the destruction of nature and could exhaust funding for other necessary policies."
If the government sticks to the 1-millisievert goal, resulting in a delay in rebuilding livelihoods, re-examining the standards with the consent of residents could be an option.
However, decontamination work has yet to start in heavily polluted areas.
Concerns have been raised that eased standards could lead to reduced measures in dealing with radiation exposure and helping evacuees return to their homes.
Regarding the shift in measuring radiation doses, it will be difficult to gather the necessary data unless a system is established for individual residents to keep measuring and recording readings on their dosimeters.
The shift in policy should be presented as a set with long-term health-care support measures, including the assignment of public health nurses and counselors and deciding how to respond when radiation doses surpass permissible levels.
PARTICIPATION OF RESIDENTS
When we consider the serious damage caused by the nuclear disaster,
it is difficult to provide a solution that can satisfy everyone.
Under such circumstances, i
t is important to include residents in discussions so that they may find it easier to accept the agreed-upon measures for their futures.
The small gatherings of residents that allow participants to freely exchange views should continue. Such steady efforts are common in cases in which reconstruction plans and decontamination work have made smooth progress.
Encouraging local communities to develop the power of autonomy will help them overcome difficult times when no solution can satisfy all.
*Future for Fukushima evacuees is not certain

福島原発避難者:将来への不安

http://fukushimaappeal.blogspot.co.uk/2013/11/future-for-fukushima-evacuees-is-not.html

Those residents in the area more than 50mSv/y will get sufficient financial help from the government, but those in the remaining area are not going to be financially supported.