(Source) http://fukushima-diary.com/2013/11/severely-exposed-workers-increased-double-from-july-to-september-2013/
The ratio of the Fukushima workers who had (external) exposure higher than 5mSv in September increased to be over as double as July.
This means the dangerous tasks significantly increased from this July.
The ratio of the workers who had over 5mSv of external exposure was 1.96% in July. It became 3.09% in August and it reached 4.36% this September.
On 11/1/2013, Tepco announced it was because the contaminated water related tasks increased since this Summer.
As contaminated water increase, more workers may be needed to the more dangerous tasks.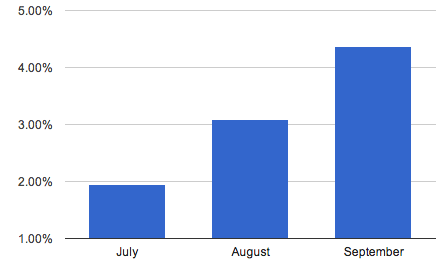 http://www.tepco.co.jp/cc/press/betu13_j/images/131031j0201.pdf
----------------------------------------------------------
Fukushima Workers 'Will Collapse First'
福島原発問題:最初に、東電労働者達が過労で、倒れるだろう
http://fukushimaappeal.blogspot.co.uk/2013/10/fukushima-workers-will-collapse-first.html
Fukushima Worker Exploitation "60 Dollars a Day, Nowhere Else to Go"
行き場のない福島原発労働者:日収
60
ドルのみ
http://ex-skf.blogspot.fr/2013/11/reuters-fukushima-worker-exploitation.html
Just How Tough Is It to Find Workers to Clean Up the Fukushima Reactor?
福島原発:クリーンナップ労働者の数を確保することの難しさ
http://fukushimaappeal.blogspot.co.uk/2013/10/just-how-tough-is-it-to-find-workers-to.html
'
Nuclear Slaves' at Fukushima: Workers have debts paid off, forced to stay as 'indentured servants
福島の原発奴隷:東電労働者は借金の返済のため年季奉公の召使いのようだ
http://fukushimaappeal.blogspot.co.uk/2013/10/nuclear-slaves-at-fukushima-workers.html
At Fukushima, 'nuclear gypsies' struggle with low wages and steep risks
福島原発: 危険な仕事かつ低賃金で、大変な思いをしているジプシー原発労働者
http://fukushimaappeal.blogspot.co.uk/2013/10/at-fukushima-nuclear-gypsies-struggle.html